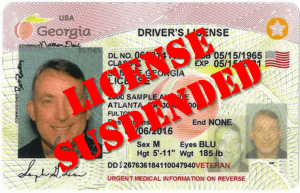 Georgia Driver's License Restoration & Reinstatement
The state of Georgia is really tough on DUI offenders. You will lose your Georgia driver's license if you fail a chemical test even if a criminal case is dismissed. It is important that any time you find yourself under suspicion of a DUI charge, you immediately contact Georgia DUI attorneys to find the best lawyer to represent you. If you do lose your driver's license, these attorneys can help you through the process of Georgia driver's license restoration.
Get Help With Driver's License Reinstatement
Fighting a Georgia Driver's License Suspension
You have 15 days from the effective date of the Georgia license suspension to file for a hearing. You should enlist the aid of driver's license restoration attorneys in Georgia to help you through the license suspension process and represent you in court. This hearing is separate from any criminal charges and court dates that you may face. In order to file for a suspension hearing, you will have to pay a $150 fee. Your attorney can guide you through your best chances for dismissal so that you can determine if it is worth the cost.
Georgia Hardship License
Georgia does allow for a restricted driver's license in the case of a DUI suspension. The hardship license is not a guarantee, and the Georgia DMV grants them on a case-by-case basis. It can be helpful to have an experienced Georgia attorney on your side to help you apply for the hardship license and ensure all requirements are met. The Georgia hardship license allows you to drive to authorized locations – such as work, school, medical appointments, and alcohol treatment programs.
How to Reinstate Your Suspended License in Georgia
The driver's license suspension period for a DUI in Georgia is a minimum of 120 days or four months. Once your suspension period is over, you will need to complete some steps to restore your driver's license. In addition to the $200 driver's license reinstatement fee, you will have to show that you have met the requirements of any criminal conviction, including the payment of fines. You will have to show proof of insurance, and may be required to install an ignition interlock device in your vehicle.
Pay Traffic / Legal Fines
Meet All Requirements of Any Criminal Conviction
Pay $200 Driver's License Reinstatement Fee
Proof of SR-22 Insurance (Must Maintain for 3 Years)
Experienced Georgia Attorneys     Georgia Treatment Programs