HOPE HEADQUARTERS
THE 1010 BUILDING
Our administrative offices location houses outpatient services, the admissions office, corporate offices and meeting spaces for our leaders and the ATS Board of Directors. Conveniently located at 1010 S Garfield Avenue in Traverse City, the 1010 Building is a hub of organization and planning for the good of the community. It is staffed by caring individuals with diverse backgrounds and big ideas who work hard every day to back up the rest of the phenomenal staff
For anyone fighting addiction, the first step is to get the toxic substances out of the body. Our medically-supervised detox program helps you through those initial days, preparing you physically, so you can begin the work of rebuilding your life.
Most ATS clients begin at the detox facility, the P.I.E.R., where they can be medically supervised and cared for as they take the brave first step of freeing their bodies of addictive substances. This process can cause serious physical and mental discomfort, lack of sleep and loss of appetite. In an active detox situation, often the most helpful thing someone can do is rest, exercise and pass the time. The P.I.E.R. allows ATS clients to accomplish that in a safe, supportive environment with medical and mental health professionals who have helped hundreds of others win the same fight.  Group therapy and counseling are available in addition to general care and support.
Many potential clients have questions about detox. Our FAQ page has more details. For information about what to bring to detox, check out this form.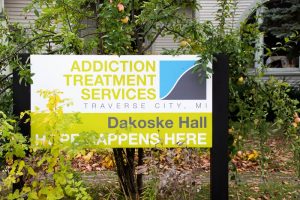 The men's residential program at Dakoske Hall is where men find customized, practical paths to living clean. The 27-bed facility is friendly and comfortable, encouraging group activity and support.
Our Men's Residential Program is based on the premise that men—just as much as women—achieve better outcomes through gender-specific treatment programs. By creating a supportive, open and productive environment, we work with our clients to identify the factors contributing to their substance dependence, and then map out a practical path to recovery. We do this in a 27-bed residential environment that promotes skill building, emotional management, relationship building and relapse prevention strategies.
Phoenix Hall, the women's residential program facility, houses up to twelve women on recovery journeys. The gorgeous house is within walking distance of downtown Traverse City and provides a safe, supportive environment for residents.
The Women's Residential Program helps women determine and address together the array of issues contributing to their substance dependence. In addition, residents can develop skills for a full recovery, including emotional management, relationship building and relapse prevention strategies.
The Recovery Homes program provides safe, structured, sober home environments to assist those transitioning from residential treatment to independent living. Research suggests that those who live in environments supportive of a recovery lifestyle have the best outcomes. With the help, support and encouragment of program staff, residents in the Recovery Homes program work together to rebuild their lives.
Research has shown that both men and women achieve the best results in gender specific environments. Our specialized residential programs are housed in comfortable, friendly facilities in the heart of Traverse City.
Recovery is a life-long journey. There are many paths one can take to a hope-filled future. So whether you are fresh out of a residential treament program or just interested in taking a different approach to health, ATS offers a full range of outpatient services to meet the ongoing needs of those who are recovering from addiction.
Drug and alcohol free workplace policies improve profitability and workplace performance. LAB ONE offers drug testing for employers, as well as advice on creating a supportive workplace policy that encourages those struggling with addiction to seek help.
 FREQUENTLY ASKED QUESTIONS
Do you take my insurance?
Currently we accept Priority Health, Blue Cross Blue Shield of Michigan, and  Medicaid, which includes the "Healthy Michigan" plan.  (Please see Healthy Michigan information at the bottom of this page).  Additionally, we are currently working on adding our agency to many other insurance panels.  Please give us a call to inquire about your specific plan and we may be able to work with you.
How can I get funding if I don't have insurance?
There are many ways to access our services.  We can help you get registered on the health exchange to determine your qualification.
For more information or assistance, please contact our Access Center for details: (231) 346-5216
Can I pay cash?
Yes.  Many of our clients pay for services out of pocket.  Sometimes they don't want to engage their employer or insurance provider.  Sometimes we can't accept their insurance but they still want to come to our agency.  Sometimes they don't have insurance.  Whatever the reason, many people do pay for services with cash, check or credit card.  Please call to explore your options.
How many beds do you have?
Dakoske Hall (the men's residential program) has 28 beds.  Phoenix Hall (our women's program) has 12 beds.  The Detox unit has 15 beds.  Most rooms are double occupancy.
How long are your programs?
While we offer multiple levels of care, the exact length of services are based on the individual needs of the person served.
What can I bring with me?
For the residential programs you will need 7 days worth of clothing and toiletries, plus a 30 day supply of medications.  For detox, 2 or 3 days of comfortable clothing, toiletries and 7 days worth of your medications.
Can I have visitors?
During your stay, we encourage family involvement and participation.  We have scheduled times for this to occur.
What is your treatment model?
ATS is proud to say that we are one of the most innovative treatment centers in the state.  We are trauma informed at all levels of the agency.  We have worked hard over the course of the last few years to implement curriculum that is evidence based and peer reviewed.  These "best practice" strategies ensure that the agency remains on the cutting edge of research from the field.  For instance, the reasons we separated our residential programs by gender a few years ago was because the research said that this would create the best outcomes for our clients.  So, that is what we did.
Healthy Michigan Plan Information
The Healthy Michigan Plan includes the following Health Care Benefits:
-Emergency Services
-Hospitalization
-Maternity Care
-Mental Health and Substance Abuse Services
-Prescription Drugs
-Plus many more health care benefits
Individuals interested in applying for the Healthy Michigan Plan should plan on having the following information ready:
-Social Security Number for self, spouse, dependents, and/or anyone who lives in the household
-Income information for self, spouse, dependents, and/or anyone who lives in the household (income includes employment, unemployment, social security, disability, etc.)
-Any information about a present insurance policy (including policy number) that the applicant and/or anyone in the family/household is on. If an individual has insurance that is expiring soon, it is still important to report said insurance.
-If the applicant is a student with loans, information is needed on how much is owed on the loans, how much and the frequency in which money is borrowed, and whether payments are being made on the loans
Additional information, including a full list of benefits and the list of co-pays required for each service, can be found at www.michigan.gov/mibridges
ED QUESTIONS
Administrative Offices
Phone: 231-346-5235 | 800-622-4810
Fax: 231-943-2590
Address: 1010 S Garfield Ave.
Traverse City, MI 49686
The P.I.E.R. (Detox Center)
Phone: 231-346-5220
Fax: 231-929-0418
Address: 940 E Eighth Street
Traverse City, MI 49686
Dakoske Hall (Men's Residential Services)
Phone: 231-346-5224
Fax: 231-922-2095
Phoenix Hall (Women's Residential Services)
Phone: 231-346-5230
Fax: 231-922-4898