Maine Law Practice Areas
Criminal Defense / Juvenile Defense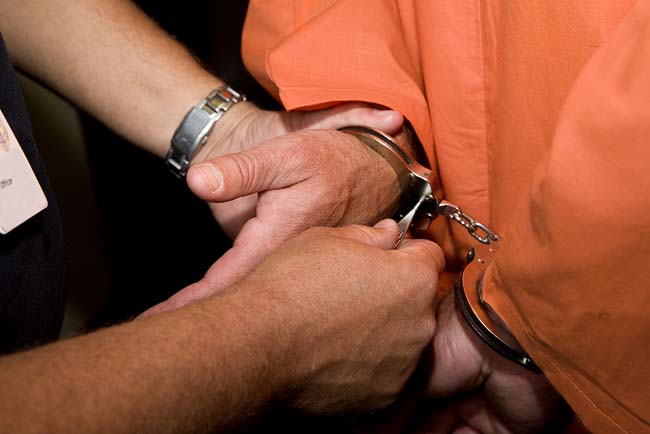 We zealously represent people in all criminal matters throughout the state, from speeding tickets to murder, Aggravated Criminal Threatening, Operating under the Influence (OUI), Gross Sexual Assault, Domestic Assault, and others. We understand that being charged with a crime is likely the most stressful experience in a person's life. Our Maine OUI attorneys are also experienced litigating criminal appeals with the Maine Supreme Judicial Court, the state's highest Court and the Court of highest appeal. Collectively, we have written numerous briefs and appeared multiple times before the Maine Supreme Court to argue the legal and constitutional rights of persons convicted of a crime.
We are also fortunate to have a former prosecutor as a partner, Attorney Worden. As a prosecutor and defense attorney, he has tried hundreds of cases before juries. The skills and knowledge Attorney Worden acquired as a prosecutor are invaluable as a criminal defense attorney.
Additional Law Specialties:
– Personal Injury
– Vaccine Injury Compensation
– Family Matters | Divorce
– Workers Compensation Claim
– Employment Discrimination | Sexual Harassment
– Probate Matters
– Social Security
The #1 Criminal Defense Attorneys in Maine
Ask our Criminal Defense Attorneys in Maine about our flat fee on most criminal cases! We represent people in all criminal matters, from speeding tickets to murder, Aggravated Criminal Threatening, Operating under the Influence, Gross Sexual Assault, Domestic Assault, and others. Our Maine OUI attorneys understand that being charged with a crime is likely the most stressful experience in a person's life. We are committed to the presumption of innocence and believe that by fighting to see that our clients' constitutional rights are honored, we are in fact protecting the rights of the whole community. We use innovative techniques and have a thorough understanding of the Constitutional, Federal, and State legal principles to resolve these most important matters favorably to our clients.
The Law Offices of Paradie & Rabasco Attorneys
When Experience Matters…
Verne E. Paradie Jr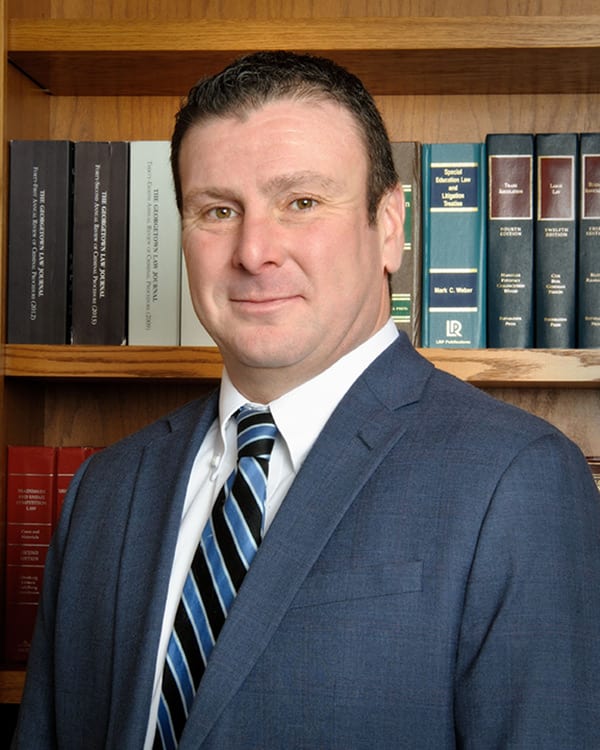 Verne's practice has been in general litigation with a focus on personal injury, vaccine injury compensation, criminal defense, appellate matters, and family matters. He has worked diligently in obtaining compensation for those injured in motor vehicle accidents, at day care facilities, slip and falls and from the administration of vaccinations. In the courtroom, Verne has secured many not guilty verdicts for criminal clients, including those charged with Operating Under the Influence, Criminal Threatening, Assault, Murder and others. In 2005 Verne was admitted to the United States Court of Federal Claims, where he assists individuals who have been injured due to adverse reactions to vaccinations.
Along with being a criminal defense attorney and personal injury lawyer in Maine, Verne is also an active member of his community, having served as a City Councilor in the City of Auburn, as a Board member of the Auburn/Lewiston YMCA, and of Central Maine Health Ventures. Verne currently serves on the Board of the Auburn Suburban Little League. He is an active supporter of youth sports in the community, volunteer coaching for football, basketball and baseball.
Ed Rabasco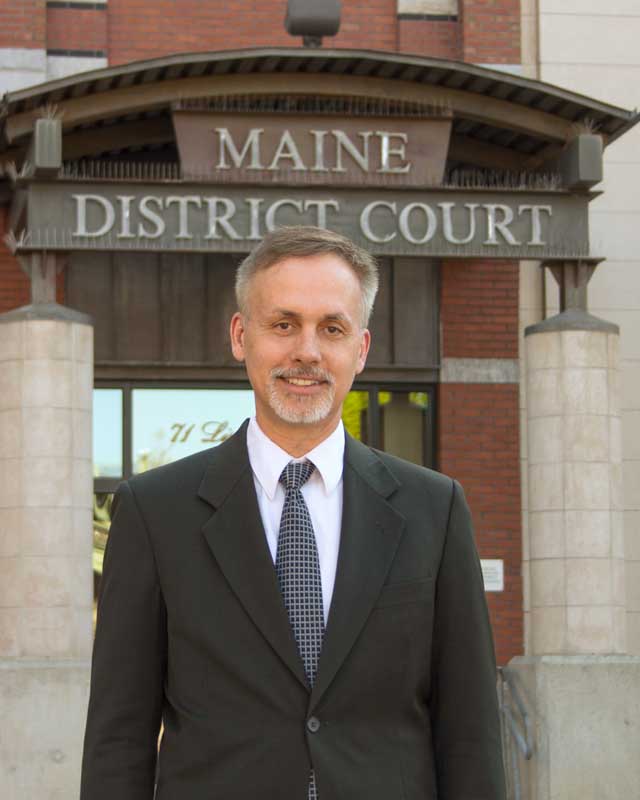 Ed's legal expertise and experience has resulted in him being appointed to the Maine State Bar Association, Fee Arbitration Commission and Medical Malpractice Screening Panels. Ed practices in all Courts in Maine including Federal Court and is admitted to practice before the United States Supreme Court. Ed is a member of the National Organization of Social Security Claims Representatives, the Maine Association of Criminal Defense Lawyers, the Maine Trial Lawyers Association, the Maine State Bar Association and the American Association for Justice.
Ed has served on the Lewiston Planning Board acting as its Chair. He currently serves on the RSU 16 School Committee, which represents Poland, Minot and Mechanic Falls. He is the Moderator for the Town of Poland. He has been a long time youth league sports coach. Ed has coached local youth, including his own children in baseball, soccer and basketball. He has also coached students in mock trials sponsored by the Maine State Bar Association. Ed is an avid runner and certified scuba diver.
Patrick Nickerson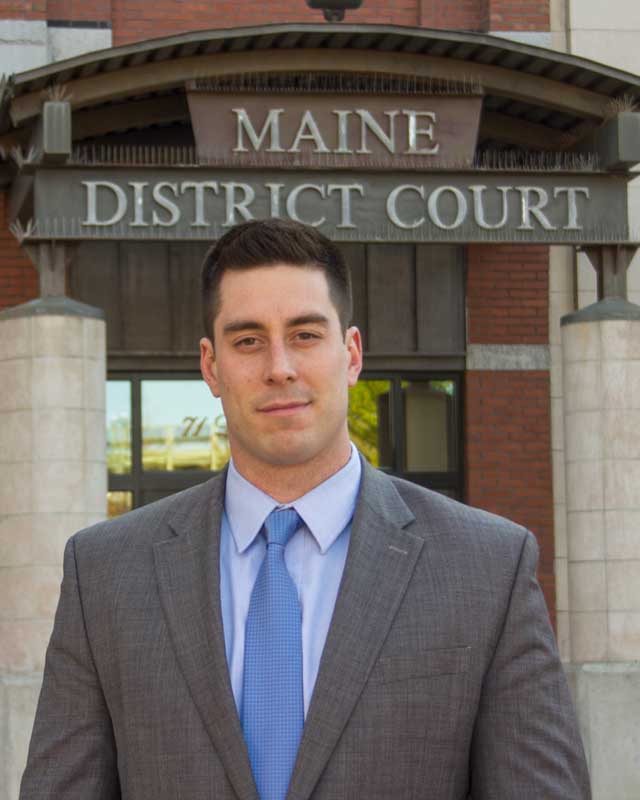 Patrick received his undergraduate degree from the University of Maine in Orono. A native of Medfield, Massachusetts, he began his legal career as an intern at the Barnstable County District Attorney's Office, where he assisted in the prosecution of criminal cases in District and Superior court. Since then, he served as a student attorney at the Cumberland Legal Aid Clinic, a small legal services provider that represents low-income individuals with legal cases in Southern Maine.While at the Clinic, Patrick worked on civil, criminal, juvenile, and family law matters in York, Cumberland, Androscoggin and Knox counties. For his efforts at the Clinic he received a CALI Excellence for the Future Award and an American Trial Lawyers Scholarship.
Patrick's practice includes criminal defense and general civil litigation, including personal injury.​
Jennifer Michaelis Esq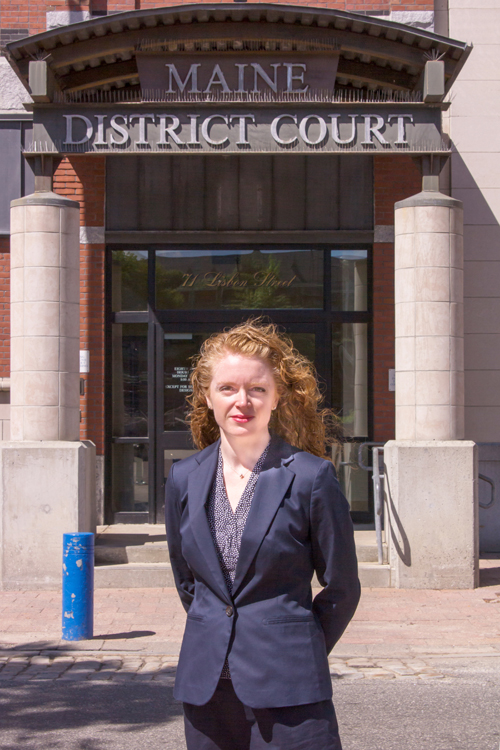 Jennifer graduated from Boston University's College of Engineering with a degree in Biomedical Engineering in 1996. She attended the University of North Carolina Chapel Hill for graduate work in Biology before following an opportunity to work in corporate communications for Buck Consultants, a division of Mellon Corporation.
She eventually made her way to secondary teaching, and was a highly respected high school mathematics teacher for many years. Motivated by changing education policy, Jennifer attended the University of Alabama School of Law on a full scholarship. Jennifer graduated in 2009 and was admitted to practice in Alabama and the Northern District of Alabama. In 2012 Jennifer moved with her family to Maine. She has been admitted to practice here since 2013.
In her spare time Jennifer enjoys crafting and cooking, and if she isn't doing those, you can probably find her in a gym or an ice arena with her family, cheering on her two sports-loving children or the teams they love.
Heather M. Seasonwein, Esq.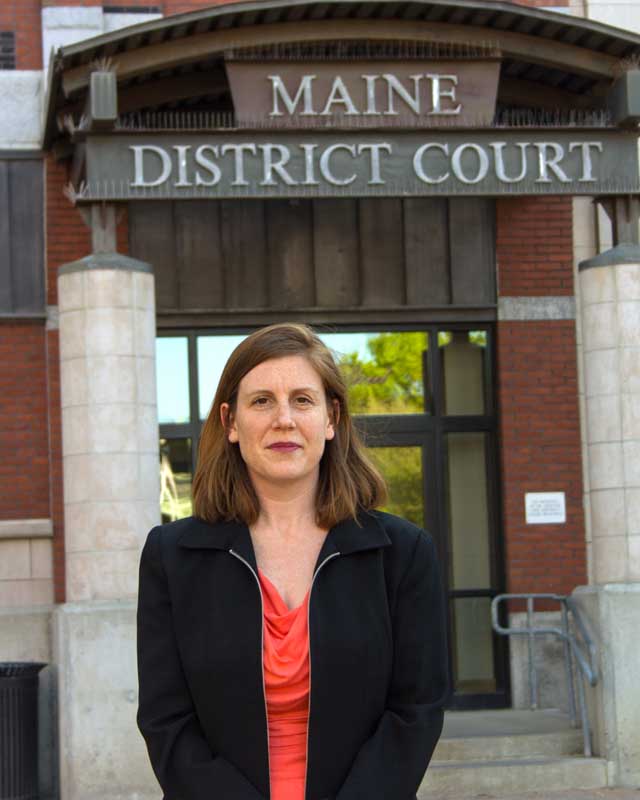 Attorney Seasonwein is an experienced litigation attorney, specializing in divorce, parental rights and responsibilities, child support, protection from abuse and criminal matters. She has over 17 years of trial experience. Heather often appears in the district courts throughout the Androscoggin, Franklin, Oxford, Cumberland, Kennebec and York Counties.
Attorney Seasonwein is a rostered guardian ad litem for minor children in family and probate cases. She also serves as a conservator and guardian for persons deemed unable to manage their own financial affairs and well-being.
Attorney Seasonwein is recognized by the Katahdin Counsel Recognition Program (KCRP). KCRP was created by the Maine Supreme Judicial Court to honor lawyers who contribute 50 or more hours of pro bono work per year to the legal community. She also volunteers for the Maine Volunteer's Lawyer Project Court House Assistance Project and helped create training materials for the Represented Protection from Abuse Project; a project designed to represent unrepresented parties (defendants and plaintiffs) of limited financial means in protection from abuse hearings.